Famosas canciones de dueto de Broadway
Escrito por Heather M. Moss

; última actualización: February 01, 2018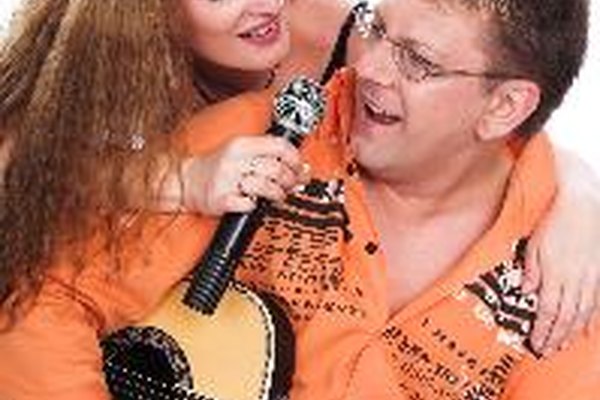 The musical duet image by Hunta from Fotolia.com
Broadway es la calle en Nueva York que alberga el distrito de los teatros y es el lugar más famoso para el teatro musical en el mundo. Cientos de representaciones teatrales se han originado en Broadway, las más rentables y entretenidas que a veces salen de su casa de Broadway y viajan por el país. Muchas de las canciones en estos musicales son piezas de espectáculos populares para profesionales y aficionados. Los duetos de Broadway pueden realizarse por dos varones, dos damas, o un varón y una dama. Algunas de las interpretaciones son serias y románticas, mientras que otras son alegres y humorísticas.
Duetos femeninos
Los duetos femeninos son populares entre piezas de espectáculos de Broadway. Louise y June interpretaron ""If Momma Was Married" en el musical de "Gypsy" el cual hizo su debut en Broadway en 1959. "Poor Little Pierette", interpretado por Madame Dubonnet y Polly, es un número entre el musical "The Boyfriend", el cual se estrenó en 1954. "Women of the Year", que debutó en 1981, contiene el dueto "The Grass is Always Greener" realizado por Tess y Jan. "Chicago" el cual debutó en 1975, presenta muchos duetos, incluyendo "Clase", interpretada por Mama y Vilma. "Baby Dream Your Dream," interpretada por Nickie y Helene, es otro de estos dúos femeninos desde el musical de 1966 de "Sweet Charity".
Duetos masculinos
Los dúos masculinos son otra característica popular en los musicales de Broadway. "We can do it" de "The Producers", el cual debutó en 2001, fue interpretado por Leo y Max. Archibald y Neville realizaron "Lily's Eyes" en "The Secret Garden," que se estrenó en 1991. "Los Fantasticks," el cual debutó en 1960 y duró 42 años, presentó "I Can See It" interpretada por Matt y El Gallo. Inclusive personajes menores causaron impresión en la categoría de dúos masculinos, "Brush Up Your Shakespeare", el cual debutó en 1948, fue interpretado por The First and Second Gangsters.
Duetos masculino y femenino
Los duetos masculino y femenino enloquecieron a las audiencias en Broadway en programas como "Annie Get Your Gun," que se estrenó en 1946. En este musical, Annie y Frank tocaron "Anything You Can Do". "You Are The Top" del musical de 1934 "Anything Goes," fue interpretadas por Reno y Billy. Reno también tocó con Moonface en el número, "Friendship", desde el mismo programa. Danny y Sandy presentaron "You Are The One That I Want" en "Grease" de 1972. "It Takes Two" del musical de 2002, "Hairspray", fue interpretada por Link y Tracy.
Duetos humorísticos
Algunos duetos de Broadway se han destinado a ser graciosos, tal como en la presentación de Desiree y Fredrik de, "You Must Meet My Wife" del musical de 1973, "A Little Night Music". "Sue Me" interpretado por Miss Adelaide y Nathan en el musical de 1950, "Guys and Dolls" también fue de buen humor . Nick y Fanny sobreactuaron en el show de 1964 "Funny Girl" con la canción "You are Women, I am Man". Otro pedacito divertido clásico vino de "Chicago", en la interpretación de Billy y Roxy de "We Both Reached for the Gun".
Duetos románticos
Claramente algunos duetos adecuados para una interpretación masculina y una femenina son románticos por naturaleza. La interpretación de Curly y Laurey de "People Will Say We're in Love" del musical de 1943, "Oklahoma" es un ejemplo. "All I Ask of You," interpretado por Raoul y Christine en 1988 de "Phantom of the Opera," es una canción de amor inolvidable, aún romántica. Kim y Chris interpretaron "Sun and Moon" en "Miss Saigon", que debutó en 1991.