Porristas preadolescentes en Texas
Escrito por Sarah Bourque ; última actualización: February 01, 2018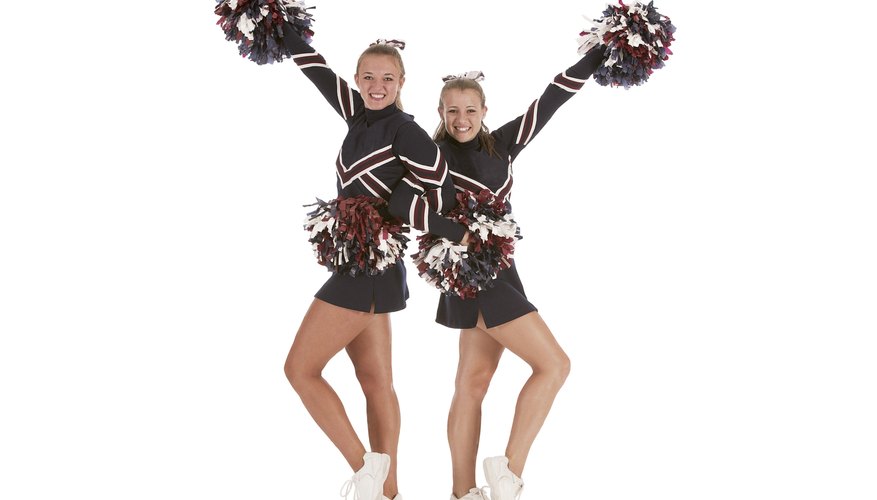 Comstock/Comstock/Getty Images
Ser porrista es una actividad atlética divertida y desafiante. Los preadolescentes, normalmente definidos como aquellos niños entre 8 y 12 años, pueden participar en las clases de porristas y campamentos para desarrollar la fuerza, la agilidad, la gracia y el espíritu de equipo. No importa tu ubicación en Texas, encontrarás una variedad de programas para animadoras que tu preadolescente va a disfrutar.
Programas área de Houston
En el norte de Houston, Texas Elite (texaselite-cheer.com) en el Basel's Gym ofrece varias opciones para tu hijo preadolescente, incluyendo campamentos, equipos competitivos, clases privadas y clases especializadas en áreas como volteretas y saltos. La Woodlands Elite Cheer Company (woodlandselite.com) en Oak Ridge North ofrece un programa de formación básica de cuatro horas a la semana de lo básico, como acrobacias, volteretas y danza de porristas, además de grupo específico de habilidad y clases particulares. La Vicki Michelle Dance Twirl Cheer (vickimichelle.net) en la primavera es un estudio integral que ofrece clases de acrobacias de porristas para tu preadolescente.
Programas área San Antonio
En San Antonio, la Champions Cheerleading and Tumbling (championscheer.net) tiene una clase recreativa de animadoras para tu preadolescente, que les enseña volteretas, saltos, acrobacias y mucho más en un ambiente no competitivo y divertido. El River City Gymnastics and Cheer (rivercitygymnastics.info) en Converse All Star Cheer ofrece clases de preparación y animación en un ambiente positivo y competitivo. El Alamo Gymnastics and Family Fitness (alamogymnastics.com) tiene preparación de salto y acrobacia y clases de animación para cualquier edad y nivel de habilidad que se ajusta a las necesidades de tu preadolescente.
Programas área de Dallas
¿Qué mejor manera para que un preadolescente aprenda a animar que de las legendarias porristas de los Dallas Cowboys? Las sesiones de uno o tres días incluyen instrucción de animación, juegos y baile, todas ellas impartidas por porristas actuales y anteriores de los Cowboys. Tu hija será colocada en un grupo según la edad y nivel de habilidad. Además de ganar nuevas habilidades y confianza, también recibirá regalos como camisetas, pantalones cortos, pompones y dos boletos para una excursión en el Cowboys Stadium. Otras opciones de clase de animación en Dallas incluyen la Dallas Power House of Dance (dallaspowerhouse.com) y la Dallas School of Gymnastics & Cheer (www.dallasgym.com.)
Programas en el área de Austin
En Austin, la Austin Cheer Factory (austincheerfactory.com) ofrece clases grupales de animación especializadas, entre ellos la Flight School, Flip Flop Factory, Back Tuck y clases para cualquier nivel. La Champions Academy (championsacademyaustin.com) es una escuela de animación no competitiva. El Black Squad, en el segundo y tercer grado, enseña habilidades de animación y da a los estudiantes la oportunidad de participar en espectáculos. La White Squad es de tercer a sexto grado, y será una clase más avanzada y difícil, aprendiendo habilidades para llevar al estudiante a la animación de la escuela intermedia y secundaria.
Créditos fotográficos
Comstock/Comstock/Getty Images
Cite this Article
Choose Citation Style
Bourque, Sarah. "Porristas preadolescentes en Texas." Geniolandia, http://www.geniolandia.com/12689414/porristas-preadolescentes-en-texas. 01 February 2018.
Bourque, Sarah. (2018, February 01). Porristas preadolescentes en Texas. Geniolandia. Retrieved from http://www.geniolandia.com/12689414/porristas-preadolescentes-en-texas
Bourque, Sarah. "Porristas preadolescentes en Texas" last modified February 01, 2018. http://www.geniolandia.com/12689414/porristas-preadolescentes-en-texas
Note: Depending on which text editor you're pasting into, you might have to add the italics to the site name.