Libros para padres de hijas adolescentes
Escrito por Victoria Georgoff ; última actualización: February 01, 2018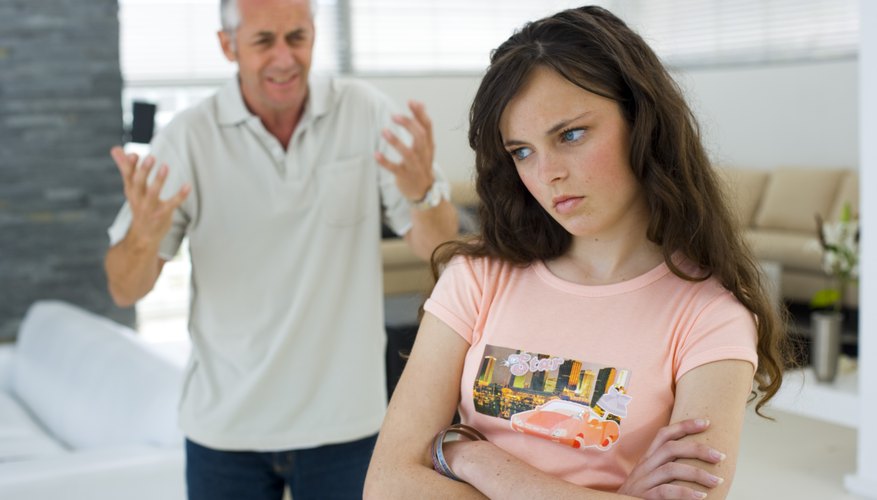 Cuando tu hija era una niña, jugabas a las muñecas, asistías a las fiestas de té imaginario o incluso jugabas al príncipe azul y su princesa. De repente, te encuentras explorando el mundo de lápiz labial, los niños y las solicitudes para la universidad ya que tu bebé ahora es una adolescente. Tómate tu tiempo para actualizar tus habilidades para criar a tus hijos o, simplemente, lee consejos de los que ya lo han hecho, mientras te embarcas en este nuevo desafío: la adolescencia.
Por qué las hijas necesitan a sus papás
A veces, los papás se olvidan lo importantes que son en la vida de sus hijas. Jay Payleitner da una idea de esta relación especial y ofrece consejos para que un hombre se conecte realmente con su hija, en su libro, "52 Things Daughters Need from Their Dads: What Fathers Can Do to Build a Lasting Relationship (52 cosas que las hijas necesitan de sus papás: ¿Qué pueden hacer los padres para construir una relación duradera)". Michael Farris recuerda a los hombres que ser un padre es el papel más importante en la vida, en su libro "What a Daughter Needs From Her Dad: How a Man Prepares His Daughter for Life (Qué necesita una hija de su papá: Cómo un hombre prepara a su hija para la vida)". Gregory E. Lang te llevará por un viaje de palabras inspiradoras y bellas imágenes que pueden hacerte llorar, en su libro, "Why a Daughter Needs a Dad: 100 Reasons (Por qué una hija necesita a su padre: 100 Razones)".
Sabiduría padre-hija
A veces un padre sólo necesita algunas palabras de consuelo y sabiduría para saber que va por buen camino en su viaje de la paternidad. "Father to Daughter: Life Lessons on Raising a Girl (De padre a hija: Lecciones de la vida al criar niña)", por Melissa Harrison y Harry H. Harrison, ofrece fragmentos de la sabiduría de un padre al criar a una hija. Ann Marie Parisi y Al Parisi enumeran una cantidad de consejos para los padres en su libro "Lunch Bag Notes: Everyday Advice from a Dad to his Daughter (Notas de la bolsa del almuerzo: Consejos para todos los días de un padre a su hija)". Philip Van Munching y Katie Couric proporcionan una guía que los padres e hijas pueden disfrutar por igual, en el libro de consejos que cada padre debe dar a su hija, "Boys Will Put You on a Pedestal (So They Can Look Up Your Skirt): A Dad's Advice for Daughters (Los muchachos te pondrán en un pedestal (para poder ver bajo tu falda): Consejos de un papá a su hija)".
Los padres al criar a sus hijas
La relación padre-hija debe ser fomentada y apreciada. Algunos libros que te guiarán en el camino son: "Strong Fathers, Strong Daughters: 10 Secrets Every Father Should Know (Padres fuertes, hijas fuertes: 10 Secretos que cada padre debe saber)", por Meg Meeker, M.D.; "That's My Girl: How a Father's Love Protects and Empowers His Daughter (Esa es mi hija: cómo el amor de un padre protege y capacita a su hija)", de Rick Johnson; "Dads and Daughters: How to Inspire, Understand, and Support Your Daughter When She's Growing Up So Fast (Papás ​​e hijas: cómo inspirar, entender y apoyar a tu hija cuando está creciendo tan rápido)", de Joe Kelly; "8 Simple Rules for Dating My Teenage Daughter: And Other Tips from a Beleaguered Father (Not That Any of Them Work) (8 reglas simples para salir con mi hija: y otros consejos de un padre protector (puede que ninguno funcione)", por W. Bruce Cameron; "A Father's Guide to Raising Daughters: Because I Need One! (Guía de un padre para criar a sus hijas: porque necesito una)", por Will Kenlaw.
Padres solteros
Criar a un adolescente no es fácil, pero ser padre soltero de una hija adolescente es aún más difícil. Por suerte hay consejos disponibles para guiar a los padres solteros a través de cada oleada hormonal, crisis emocional y ruptura de novio en la vida de sus hijas. Echa un vistazo a estos títulos para un poco de orientación y consejos amistosos: "But Dad!: A Survival Guide for Single Fathers of Tween and Teen Daughters (¡Pero papá!: Un manual para padres solteros de hijas adolescentes)", por Gretchen Gross y Patricia Livingston; y "The Single Father‬: ‪A Dad's Guide to Parenting Without a Partner (El Padre soltero‬: Guía para el papá sin pareja)", por Armin A. Brott. Greg Wright también ofrece un relato de primera mano de la vida de un padre soltero con sus hijas, en su libro, "Daddy Dates: Four Daughters, One Clueless Dad, and His Quest to Win Their Hearts: The Road Map for Any Dad to Raise a Strong and Confident Daughter (Las fechas de papá: cuatro hijas, un papá perdido, y su búsqueda para ganar sus corazones: el mapa para cualquier padre para criar una hija fuerte y segura)".
Créditos fotográficos
Jupiterimages/Pixland/Getty Images
Cite this Article
Choose Citation Style
Georgoff, Victoria. "Libros para padres de hijas adolescentes." Geniolandia, http://www.geniolandia.com/12688017/libros-para-padres-de-hijas-adolescentes. 01 February 2018.
Georgoff, Victoria. (2018, February 01). Libros para padres de hijas adolescentes. Geniolandia. Retrieved from http://www.geniolandia.com/12688017/libros-para-padres-de-hijas-adolescentes
Georgoff, Victoria. "Libros para padres de hijas adolescentes" last modified February 01, 2018. http://www.geniolandia.com/12688017/libros-para-padres-de-hijas-adolescentes
Note: Depending on which text editor you're pasting into, you might have to add the italics to the site name.